Landlord and Tenant Litigation – In the Courtroom, a Michelle Itkowitz Lawline CLE; Answering Summary Proceedings: Possible Tenant Defenses
September 2021
In this post, I provide an excerpt from my February 19, 2021 Lawline continuing legal education program entitled "Landlord and Tenant Litigation – In the Courtroom". This except if from a very important section entitled "Answering Summary Proceedings".
July 2022 Quick Update: This CLE has been available for 17 months. In that time, 336 lawyers have reviewed it – giving it a 5.0 out of 5 rating!!!

ANSWERING A SUMMARY PROCEEDING
Real Property Actions and Proceeding Law § 743 provides that the "answer may contain any legal or equitable defense, or counterclaim." A lease provision limiting a tenant's right to assert counterclaims in a summary proceeding will generally be enforced.[fn 1] An exception exists if the counterclaim is "inextricably intertwined" with the landlord's claim or the tenant's defense.[fn 2] A counterclaim not intertwined with the landlord's claim or the tenant's defense will generally be severed from the summary proceeding, even absent a waiver-of-counterclaims provision, since the maintenance of unrelated counterclaims will delay resolution of the summary proceeding.[fn 3] In keeping with the liberal approach to pleadings, courts allow inconsistent defenses to be pled in an answer[fn 4] and liberally allow amendment, absent prejudice arising from the delay in seeking leave to amend.[fn 5]
Summary Proceeding Answer Do's and Don't's
Tenant's answer:
• Should include all defenses of which tenant's counsel is aware at the time of filing the answer. Surprise has no place in litigation. Moreover, if you do not include a defense in your answer, it could be deemed waived. The list of affirmative defenses in CPLR § 3018(b) is not exhaustive. Other things may qualify as affirmative defenses and will, if they meet either of the following two descriptions contained in CPLR 3018(b)[fn 6]: (1) the matter is one that would be likely to surprise the plaintiff; or (2) the matter raises issues of fact not appearing on the face of the complaint.
• Should not include "everything but the kitchen sink". If a defense does not apply, do not include it. When you include a completely inapplicable defense in a landlord and tenant answer, people stop taking you and your other defenses seriously. For example, "contributory negligence" is a defense that simply does not belong in a tenant's answer in a summary proceeding…because it's not a negligence case.
Checklists of Tenant Defenses
Here are some tips for drafting your answer:
• Always start with Seigel's on New York Practice (available on Westlaw), under Pleadings / Answer/ Affirmative Defenses. This article is a great primer for helping you not miss affirmative (use-it-or-lose-it) defenses.
• Next, I am going to suggest two Landlord and Tenant Law treatises that have sections on defenses in summary proceedings. The lists of defenses in these books are not exhaustive. Use these treatise sections as checklists so that you do not miss any of the common defenses.
o N.Y. Prac, Landlord and Tenant Practice in New York by Daniel Finkelstein and Lucas A. Ferrara (available on Westlaw)
o New York Residential Landlord-Tenant Law and Procedure by the Honorable Gerald Lebovits, Damon P. Howard, Esq., and Michelle Itkowitz, Esq. (available from the New York Bar Association)
Below, I created a list from the table of contents of the two books. The books have in depth sections on each defense: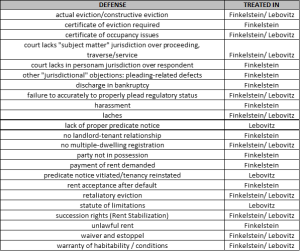 Of course, these lists are NOT exhaustive. I use the following rule: If something feels unfair, there is probably a defense based on that something. My job as the tenant's lawyer is to properly articulate the unfair thing in the context of a legal defense.
Footnotes
(1) See, e.g., Man Chit Cheng v. Chang, 21 Misc. 3d 143(A), 880 N.Y.S.2d 225, 2008 WL 5146919, at *1 (App. Term, 2d Dep't, 2d & 11th Jud. Dists. 2008).
(2) See, e.g., All 4 Sports & Fitness, Inc. v. Hamilton, Kane, Martin Enters., Inc., 22 A.D.3d 512, 513–14, 802 N.Y.S.2d 470 (2d Dep't 2005); Sutton Fifty-Six Co. v. Garrison, 93 A.D.2d 720, 722, 461 N.Y.S.2d 14 (1st Dep't 1983) (warranty-of-habitability counterclaim intertwined with defense); 150 Greenway Terrace, LLC v. Cullen, 14 Misc. 3d 130(A), 836 N.Y.S.2d 487, 2007 WL 29060, at *1 (App. Term, 2d Dep't 2d & 11th Jud. Dists. 2007) (defense and counterclaim based on the landlord's denial of access); Purmil Co. v. Chuk Dey India Too, Inc., 20 Misc. 3d 1136(A), 867 N.Y.S.2d 377, 2008 WL 3877148, at *5–6 (Dist. Ct., Nassau Co. 2008).
(3) See, e.g., Goldman v. Rosen, 13 Misc. 3d 143(A), 831 N.Y.S.2d 359, 2006 WL 3437408, at *1 (App. Term, 1st Dep't 2006); Graham Court Owners Corp. v. Powell, 9 Misc. 3d 94, 95–96, 804 N.Y.S.2d 530 (App. Term, 1st Dep't 2005).
(4) United E. LLC v. Churi, 24 Misc. 3d 80, 81, 885 N.Y.S.2d 140 (App. Term, 1st Dep't 2009) (discussing inconsistent defenses that the tenants had not vacated and that the undertenant had succession rights); Giancola v. Lormé, N.Y.L.J., Sept. 2, 2009, p. 28, col. 1 (Civ. Ct., Kings Co.) (same).
(5) 46 E. 91st St. Assocs., LLC v. Bogoch, 23 Misc. 3d 36, 37, 879 N.Y.S.2d 266 (App. Term, 1st Dep't 2009) (allowing leave to amend to assert a rent forfeiture defense based on MDL § 302-a); Cretans Ass'n "Omonoia" Inc. v. Perkis, 4 Misc. 3d 136(A), 791 N.Y.S.2d 868 (App. Term, 1st Dep't 2004); B&L Concourse Hous. Assocs. v. Elliot, 26 Misc. 3d 487, 890 N.Y.S.2d 799 (Civ. Ct., Bronx Co. 2009) (granting leave to amend the answer to assert that the apartment is rent stabilized); see Vista Realty Corp. v. Brunilda, N.Y.L.J., Aug. 20, 2009, p. 25, col. 1 (Civ. Ct., Kings Co.).
(6) A number of matters are not the plaintiff's burden to prove as part of the cause of action and are thus the defendant's burden to broach in the answer and sustain at the trial, i.e., to plead and to prove. These are the "affirmative defenses." The well-known ones are the several explicitly listed in CPLR 3018(b):
• arbitration and award
• collateral estoppel
• culpable conduct of the plaintiff under the comparative negligence rule
• discharge in bankruptcy
• illegality
• fraud
• infancy or other disability of the defendant
• payment
• release
• res judicata
• statute of frauds
• statute of limitations